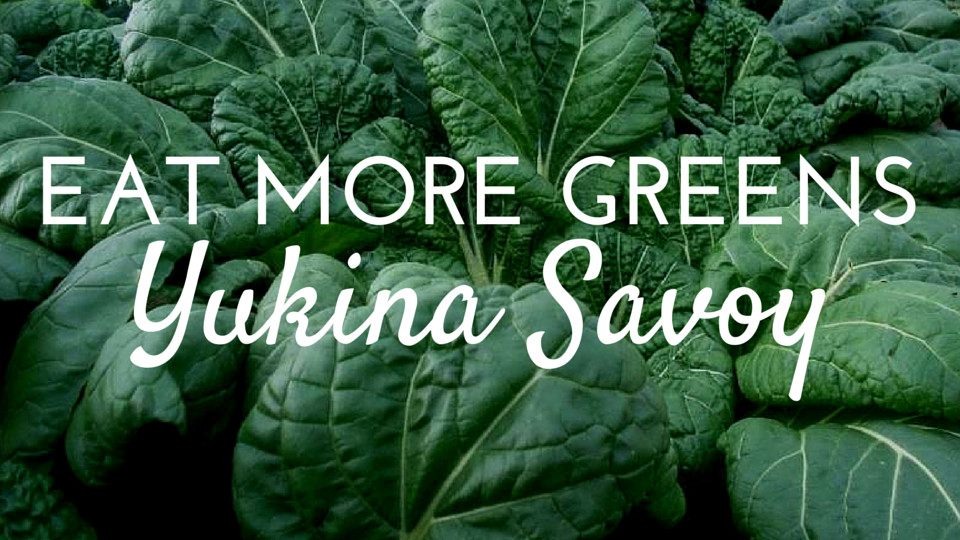 Eat More Greens: Yukina Savoy
Leafy greens are one of the most beneficial foods that we can eat. Grown fresh in the backyard in organic highly mineralized soils will give you the most nutrient dense leafy greens for only minutes per day of your time. These easy to grow leafy greens that are so expensive in the store, if you can find them, will only cost you pennies to grow yourself. It is so enjoyable to grow these unique leafy greens in the right growing system. I encourage you to start growing your greens and opening up a whole new world to your palette. The great thing about eating different varieties of leafy greens is that each plant species will bring different plant based vitamins and minerals to your diet. The plant based vitamins and minerals are the easiest vitamins and minerals for our bodies to absorb.
The leafy green that we are featuring today is Yukina Savoy and it is an Asian green in the cabbage family (Brassica Rapa). Yukina Savoy is wonderful because it can be grown in hot or cold weather. It is frost tolerant and can be grown in the spring and fall. It is also heat tolerant and can be grow in the summer. It is similar to spinach and makes a great spinach substitute. Sow the seeds ¼ inch below the soil and water in well. The seeds should emerge in 3-5 days. Thin the plants to 3 inches apart for harvest of outside leaves. If you are going to grow the plant so you harvest it once then space the seeds 12 inches apart.
Any of the pests that will eat your cabbage will eat Yukina. Watch for Flea Beatles, cabbage loopers and aphids. For great pest control tips check out my high performance garden training videos. They are the free education you will need to help you on your gardening journey.
Yukina can be grown for harvesting the leaves around the outside of the plant every week or you can grow a head and harvest it one time. I prefer to harvest the leaves from the outside of the plant every week. Yukina will be up and ready to harvest the leaves in 3-4 weeks from sowing.
Once you have picked the leaves, wash them in cool water and spin them in a salad spinner or lay them on a towel to dry off. Pack them in a plastic or ventilated bag for storage in the refrigerator. They should keep for 2 weeks if you got them dry enough. If you leave your Yukina in the garden too long and it starts to set flowers you can eat the flowers and the flower stalk.
Yukina has a mild cabbage or Bok Choi flavor. The flowers will be sweet when you eat them. Yukina is great in a stir-fry, can be eaten fresh in a salad, you can put it in your juicer or in a smoothie. You can also blanch it and freeze it for use in the winter in soups and stir-fries.
Yukina is an easy to grow leafy green that tastes great and will provide many vitamins and minerals. I like to grow Yukina in the summer when it is too hot for the spinach to grow well. This is one green that is not easily available. I recommend growing it. It is such an incredible green that is so easy to grow.
Will you plant Yukina Savoy in your garden? What unique leafy greens are you growing? Tell me all about it in the comments below! I would love to hear from you.
I look forward to the next blog post, until then, may your garden be easy, fun, productive and always organic!
P.S The weekly leafy green is just a taste of what you can find in our latest online high performance gardening course- the Leafy Greens Container Course will show you how to grow 3 cups a day of the multicolored, nutrient dense greens you can find nowhere else. If you are ready to grow a garden specifically designed for those with time and space limitations check out our latest online course!