Paleo zucchini bread is the cure for those cravings for sweet bread concoctions of the past. When I have a plethora of zucchini as a once in a while treat I whip up this recipe for my family. It's sweet, it's simple and highly enjoyable. What else could you ask for in a paleo zucchini bread? While I don't endorse making sweet baked goods very often this is a good inbetween that is not as unhealthy as a paleo cake or as healthy as simply pan frying zucchini. This hearty bread is a great treat for those weeks inbetween birthdays and other celebrations. Just be careful when you make it, the loaf will be gone before you have even started!
I like to mix my honey, eggs, zucchini, vanilla and oil together and then mix the tapioca flour, almond flour, spices and baking soda separately. Once both are well combined I fold in the dry ingredients with the wet, being extra careful about over mixing. The batter can then go into two standard loaf pans or a 9×13 pan. I will more commonly place the batter into a 9×13 pan. Bake at 350 degrees Fahrenheit for 40 minutes or until a toothpick can be inserted in the middle and come out clean.
You can eat it warm with a little bit of coconut oil or cold with a nut butter of choice. This is a great dense paleo zucchini bread that is good no matter how you eat it!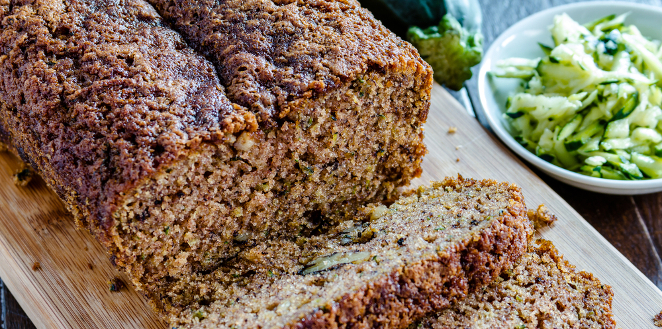 Paleo Zucchini Bread
2015-10-30 12:55:42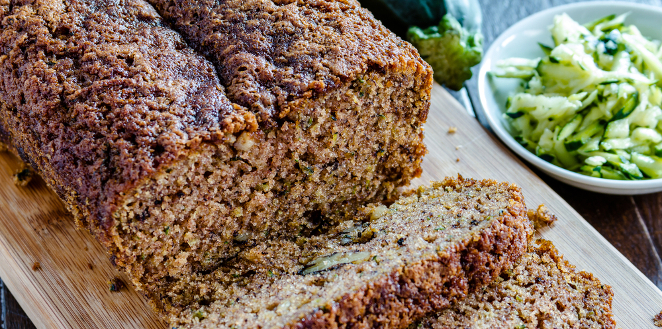 Serves 10
Ingredients
1 1/2 cup Tapioca Flour
1 1/2 cup Almond flour
1 tsp cinnamon
1 tsp baking soda
1 tsp salt
1/2 c. honey
3 eggs
2 cups grated zucchini
1 tsp vanilla
1/2 c. oil
Instructions
Mix dry and wet ingredients
Fold in dry ingredients and place batter into two standard loaf pans or a 9x13 pan.
Bake at 350 degrees for 40 minutes or until done.
Paleo Gardening http://paleogardening.com/