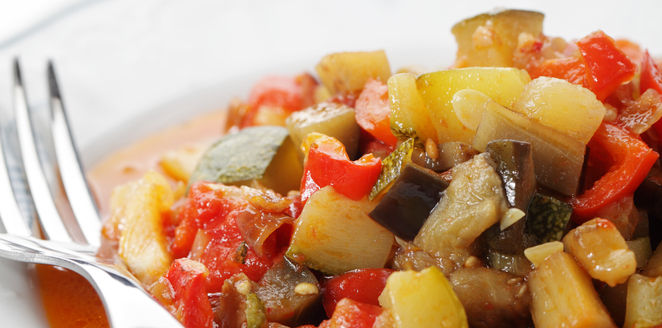 Ratatouille
2015-05-19 16:57:20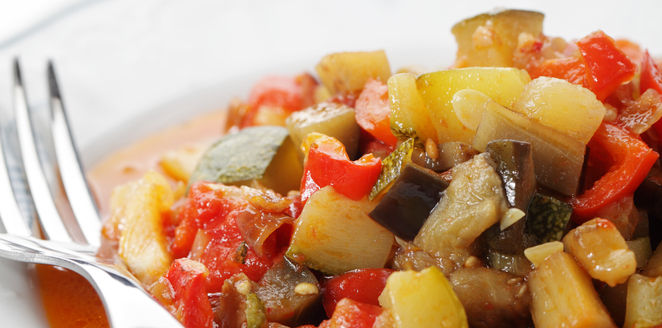 Ingredients
1 Medium eggplant, peeled and cut into ¾ inch cubes
4 Medium onions peeled and coarsely chopped
½ Cup olive oil
3 Green Peppers seeded and chopped into ¾ inch pieces
5 small zucchini cut into ¾-inch slices
5 ripe tomatoes peeled and crushed
2 Large cloves of garlic peeled and crushed
1 Tablespoon each minced fresh basil and marjoram
Salt & black pepper to taste
Instructions
Arrange eggplant cubes in a single layer on paper towels. Sprinkle with salt, let stand 15 minutes, then turn, salt and let stand 15 minutes more. Rinse in cold water and dry.
In a large skillet sauté the onions in the oil until soft and transparent. Lower the heat, add the peppers and eggplant, and cook for 5 minutes, stirring occasionally.
Mix in the zucchini, tomatoes and celery; cover the skillet and allow the vegetables to simmer over low heat for 50 minutes. Stir in the garlic and seasonings, and cook 5 minutes more. Serve hot or cold.
Adapted from The Living Farm
Paleo Gardening http://paleogardening.com/
The most delicious ratatouille in the world! This is one of our favorite ways to enjoy our tomato and summer squash harvests. Ratatouille is one of the worlds best comfort foods that only gets better because you have grown it yourself!