Recently I had the pleasure to interview the Merrymaker Sisters from Australia. These two are so incredibly supportive and fun that it made me wish that I could travel down and enjoy a cup of tea. They run a support program for getting healthy, have written a beautiful cookbook and are full time bloggers. Discover their inspiration, their journey to health and their holiday recipe for Paleo Christmas Stuffing in this fun filled interview!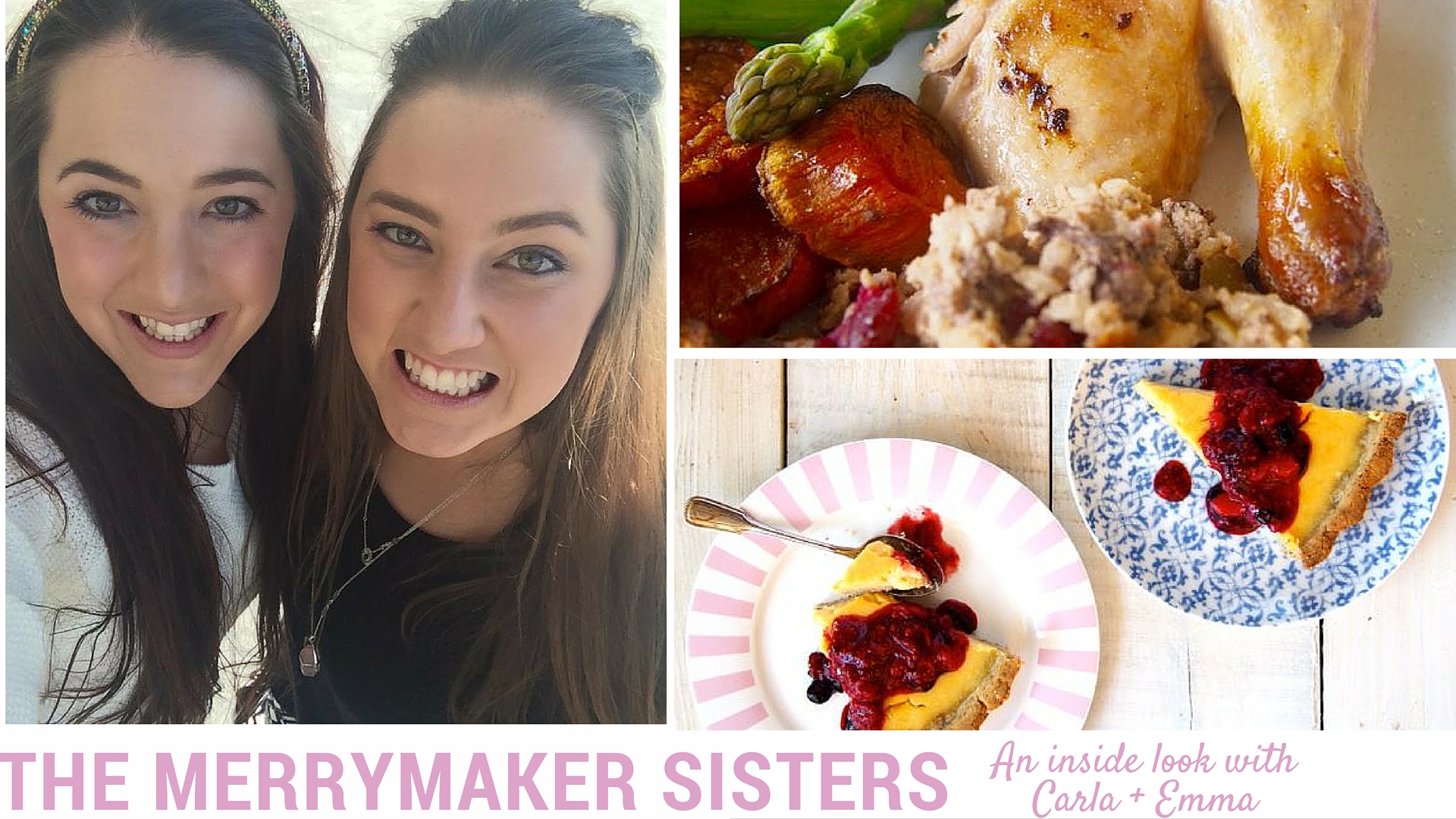 Everyone has a story about their journey to Paleo. What is yours?
Flash back to mid 2012, we were sick of feeling sick, fed up with counting calories, beyond tired from the guilt we felt after eating, with low self-esteem and terribly confused as to why we felt this way. We were in this obsessive whirlwind of fad diets, quick fixes and negative body image. This unhealthy way of living needed to stop, so we searched for something that would work. In just one week we heard the word 'paleo' 3 separate times… so we had to look in to it.
We decided to try it out and after 4 weeks we'd never felt better! Our skin was clear, we weren't bloated and the negative self talk had disappeared. We finally had found a way of living that just worked for us, it wasn't a chore or an internal fight.
So we kept going and learning more and sharing it with our friends and family!
How has your personal Paleo journey affected the way you serve others?
It's changed everyone that surrounds us. Our mum now eats paleo and our dad eats 'part time' paleo. Plus, we started The Merrymaker Sisters where we serve hundreds of thousands of people every month with inspiration and knowledge to live a healthier, happier life.
What was the catalyst for you to leave your jobs and become the Merrymaker Sisters?
Paleo and real food was the catalyst! We started sharing photos to our Instagram accounts and everyone wanted to know why we weren't eating grains, gluten, dairy or refined sugars! And they were asking for recipes on repeat! So we literally googled 'how to start a blog?' and that was where it all began. From there we realised that not only did we have a passion for paleo but we had a passion for online business, and social media! Our overall mission for The Merrymaker Sisters is to create a healthy, happy, more magic filled world. We do that by creating a safe and fun community where everyone is welcome to come, learn and get inspired to make positive changes to their lives.
We haven't looked back since starting our merrymaker journey in February 2013, and feel truly lucky to have found a career path that makes us happy and gives us a sense of fulfillment. We always say 'To Merrymake, is to follow your bliss, passion, dream' and that's exactly what we're doing.
What is the story to the name for the blog "The Merrymaker Sisters"?
define merrymaker: [mer-ee-mey-ker] /ˈmɛr iˌmeɪ kər/ 1. a person who happily and enthusiastically takes part in some festive or merry celebration (aka life); reveler.
Eating and living this way brought us so much joy and happiness and we're real life sisters so it kinda just made sense! IT really was a 5 minute decision and we're so glad we chose to call our business that. It's a great brand now that people love to associate themselves with.
On your blog your passion for good food is contagious. What inspired your love for food?
A lot of our inspiration comes from our Mum's old recipes. We love to take them and health-a-fy them! Plus we're big Instagram and Pinterest lovers, so taking a scroll or search on those platforms always makes our taste buds go crazy! We might see something and wonder how can we make that healthy? The biggest thing we make sure is that our recipes are all nutritious, quick and easy. You don't have to be a super chef to make it merry, you need a few simple ingredients and an open mind to try new things!
With Christmas coming up, would you both have any tips for listeners for how to stay Paleo when your family is not Paleo?
We always remind our readers and friends that the choice is always theirs. If they want to indulge in something then make the decision and own that decision… the most important part is to ENJOY that decision! Don't go beating yourself up if you fall off the wagon a little!
But if you want to stick to paleo, then you can definitely work around your family and friends. Maybe you can bring a vegetable dish to share or a healthy dessert so you don't feel like you're missing out! And, we always say to be open with your friends and family about your goals for your health and happiness. If they know about and your why behind the decision then they're more likely to support you!
What new recipes will you be trying out this Christmas?
Oh we LOVE Christmas! We're going to be making a Paleo White Christmas as well as a Choc Mint Slice! Hello yum! Plus, we came up with a Paleo Christmas Stuffing which is absolutely delish! They're all super easy and friend/family approved!
I really enjoyed your blog from last year about how you were both trying to eat 99% organic. How has that gone?
Thank you! It's still going! We try to eat as much organic as we can but sometimes we just can't get to our organic grocer or markets when we need a certain ingredient. It's all part of the journey though right?

One of your unique services is the Make Life Merry Challenge, could you tell me more about this program?
Oh yes! This is our most favourite thing that we offer. It's a 4 week challenge where we offer a 2 week meal plan, shopping list, as well as expert webinars and a private Facebook community where we all keep each other accountable and inspired throughout the 4 weeks. We had some unbelievable results from our last challenge and our next one starts on 11 January, which is perfect timing to kick off those new year goals! Overall it's an easy way to start your real food, paleo journey.
Here in North America it's funny to see that you are gearing up for a Make Life Merry Summer Program. In Australia what has been the response to your programs?
We always think how funny it would be to have a cold Christmas! The Summer program is going to full of lots of quick meals that are light, refreshing and cleansing. The response to the programs has been epic, our most successful product to date and we love running them as we get to create closer relationships with our merrymakers (aka our audience!).
The problem of making the Paleo diet affordable is a common one. Do you have any recommendations for how to make it more affordable?
Always ALWAYS buy seasonal and smart. So if something is on sale, buy that instead of the produce that's not on sale. The great thing with eating this way is that often ingredients are easily interchangeable. E.g. sweet potato for pumpkin, broccoli for zucchini etc. It's about owning this decision. You either find a way or you make an excuse. This is up to you. So if you want to live a healthier, happier life, search for what's on sale and in season so you can make it possible to eat healthy for a better, longer, more merry life.
Where is the best place for listeners to go to learn more about you?
We would LOVE everyone to pop on over to www.themerrymakersisters.com/subscribe – here we give away lots of goodies including our Recipe eBook and Positive Merrymaker Mantras to live your happiest life possible.
We're also at The Merrymaker Sisters on Facebook and @themerrymakersisters on Instagram!